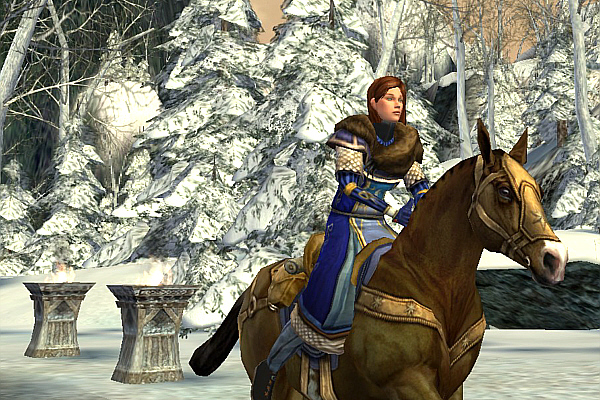 This month's contest at Windy Acres Ranch is "Equestrian Fashion". Submit a photo and description of your best riding outfit. Win fame, fortune, and a code for a Perlino mount or 100 Turbine Points!

Here are some tips for taking screenshots:
* The number pad or right mouse button can be used to adjust the camera angle.
* You can zoom in to a first-person view with the mouse-wheel.
* CTRL-P or Print Screen takes your screenshot.
* Screenshots are stored in the "My Documents/The Lord of the Rings Online" folder.
* F12 will remove the UI and N will remove floaty names.
* You can hide the overhead quest and vendor icons on NPCs in the UI settings.
---
Here are the rules:
To enter, reply to this post with a URL link to your image before midnight EST on August 31, 2012. You can also email your entry to kiralynn@roll3d6.com.
Your entry must include your email address or the name of the character that belongs to you on the Landroval server. You must also post the name of the character and horse in the image.
Your character does not need to be riding in the picture, however riding or standing with a horse is encouraged.
You may submit up to three outfits. Entries must have an equestrian theme.
The entries must be in JPG, GIF, BMP or PNG format.
Images must be accompanied by a description of the outfit – the name and dye color of each visible piece.
One winner will be selected by members of the riding club and other LotRO players.
The winner of the contest will receive a code which can be redeemed for 100 Turbine Points or an account-wide Perlino mount. This code can be used on any account.
The code can be delivered by email or through in-game mail. The winner must contact Kiralynn on Landroval or at kiralynn@roll3d6.com by September 7th to claim the prize.
Windy Acres Ranch is not responsible for lost or malfunctioning codes.
Good luck!