Looking for fresh ideas in outfitting your warsteed? Brendoran, Audrieta, Whittle and Gori Brightforge share their decorative tack and fashionable outfits.
Here is Audrieta on a new pony, accompanied by Dannigan on Fram. They pause a moment at the statue in the center of Michel Delving, currently under construction.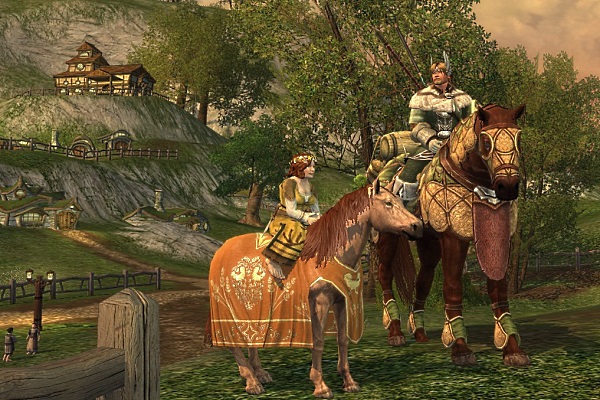 Audrieta's pony is wearing the Caparison of Plenty while Dannigan's warsteed tries on the new tack designed by the horsemen of Michel Delving.

Meanwhile, Brendoran adventures in Rohan on Red, a fine steed with a copper hide and black chestnut mane and tail.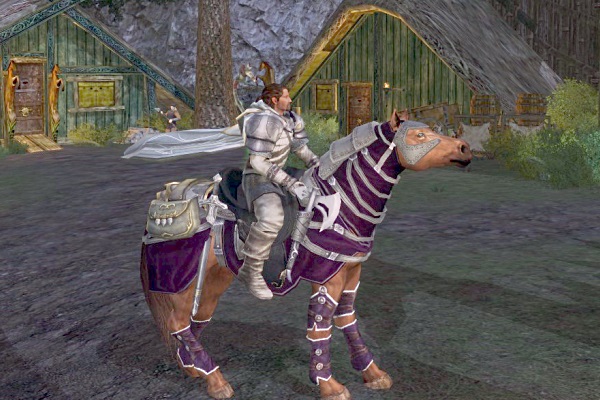 Red is wearing the Esgaroth caparison and halter dyed white with the leggings dyed burgundy. A plain black saddle and the accessory of the Hammerhand complete the tack.
Whittle and Candyapple pause to take in the beautiful view during a cold, starlit night in Wildermore. Candyapple is a flaxen chestnut steed with the same color mane and tail. He is equipped with a Hunter's full set of tack in Forest Green.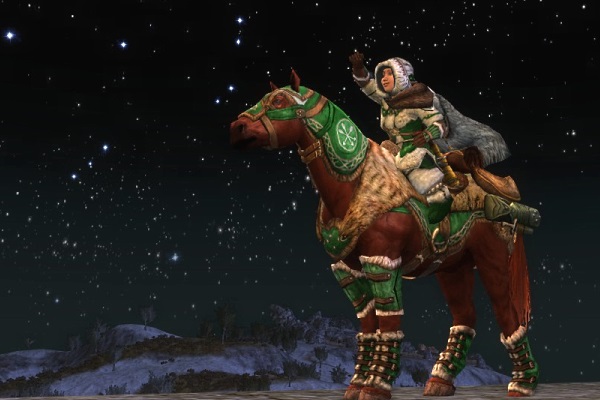 Whittle is wearing an outfit dyed Forest Green beginning with the Wildermore Survivor's Robe. Strong Pauldrons of Theodred warm her shoulders, while a Bearskin Winter Cloak covers her head and back. Gloves of the Encroaching Winter and Ceremonial Ajokoira Shoes keep her hands and feet toasty and snug.
Gori "Mithrilfist" Brightforge is ready for battle outside of Thorin's Hall, shouting "Baruk Khazad!" Gori's outfit is dyed entirely Ered Luin Blue. He has equipped the Himhar helm, Dagoranc shoulders, and Cloak of the Dragonfly. The breastplate, gauntlets, leggings and boots are all from the Blademaster's set.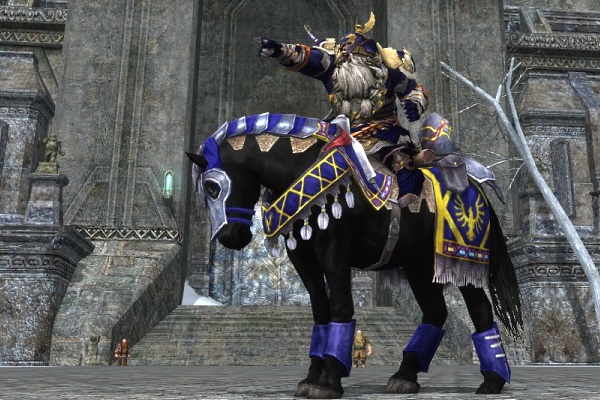 Gori's steed Coldfire is a black war stallion, wearing a Captain's tack in Ered Luin Blue.
During more festive occasions, Gori and Coldfire can be found at the Prancing Pony. Coldfire is wearing the Caparison of Plenty and Light Leggings of the Entwash in matching Ered Luin Blue.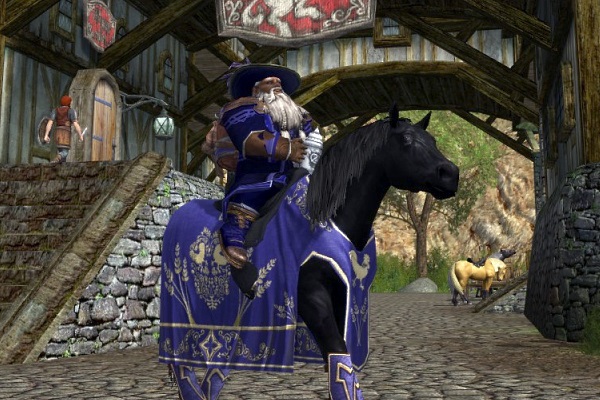 Gori's outfit is dyed entirely in Ered Luin Blue. It includes the Fancy Plumed Hat, Storyteller's Fur-lined Mantle, Robe of Viisaus, Pever-durnvol gloves, and brushed leather boots. After a few steins of ale, "Kazad Ai-menu!"
Have an outfit to share? Send your screenshots to kiralynn@roll3d6.com!