Join us for the Blue Mountain Classic horse race, mounted fashion contest and trivia game! Meet in front of Thorin's Hall on Saturday, January 18th at 2:30pm /servertime (EST) on Landroval.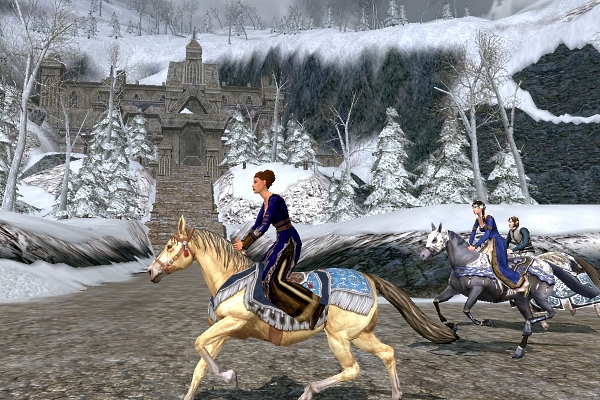 The Blue Mountain Classic is a challenging fun run using the same course as the
Winter Derby
.
The race begins at the edge of the stairs in front of the gates of Thorin's Hall. Checkpoint One is a counter-clockwise turn around the statue at the center of Frerin's Court. Riders can go over the stairs and must only clear the statue itself. Checkpoint two is a counter-clockwise turn around the gazebo at Winterheight. Riders must go around the gazebo but can pass through any other gates. Checkpoint three is riding counter-clockwise around the main building in the Refuge of Edhelion. Riders will enter through the gate on the right and exit over the rubble. Checkpoint four requires riders to brave the stairs of the Silver Deep Mine. They can go down these stairs any way they like, but must touch the top platform. Jumping is permitted. Once down the stairs, riders can exit any way they like, including out the gates or over the fences. Checkpoint five is a turn clockwise back around the statue in the center of Frerin's Court. The finish line is an imaginary line between the two braziers at the top of the stairs in front of the gates of Thorin's Hall.
The fashion contest is mounted and winter-themed. All steeds are allowed, including goats and war steeds. Outfits will be judged on how well they match the theme, how well the rider and his steed are coordinated, creativity and overall design. The audience votes for the winners!
The trivia contest challenges the audience to be the first to /shout out the answer to a question asked by Kiralynn. The first three to answer correctly earn points. After all the questions are asked, those who earned the most points win!
The prizes for each event are 1,000 Turbine Points for first, second and third place.
Sign up for these events by contacting Kiralynn in-game during the hour before the event begins. Specify which event(s) you want to participate in. Good luck and we'll see you at the races!